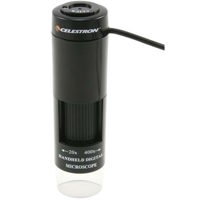 This is interesting. A 400x zoom USB from Celestron for 59$.

http://www.adorama.com/CNMSD.html
Here's the lens in action on youtube:
but it might be more trouble than its worth. It has be discontinued from the manufacturer - could be because of this...
Stormin Norman
from

Arizona
on

4/3/2008
writes.
Pros:Quality Lenses, Strong Construction
Cons:Difficult to Use, Go from 20x to 400x hard, Sticky Zoom, Vibrates when focusing
"Is great to use but difficult to change from 20x to 400x. The manufacturer has a problem. Had to use pliers on the first one and broke a fingernail and the replacement was better but 400 x was still difficult to use and focus. Not like the one demonstrated at the CES in Las Vegas in January. "
Here's the demo Norman's talking about:
Anyone else have this?